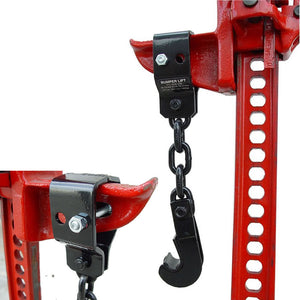 Hi Lift Jack Bumper Lift Attachment
Regular price £29.99 Sale
The Noryb bumper lift is a handy attachment that can hook onto most bumpers or awkward jacking points giving a easy and secure lifting point.
The Noryb bumper lift simply fits onto the existing jacking point of a Hi Lift or Farm Jack making it a simple but essential tool.
Solid metal hook made from a wear resistant Manganese Steel with strengthened 5 link chain that will withstand years of use.
Lifting Capacity - 5Ton / 10,000lbs / 4,535Kg
The Noryb bumper lift is a simple yet effective accessory for your Hi-Lift or Farm Jack, the bumper lift simply slides onto your existing jack point. The reinforced hook can be used for many applications and is ideal for vehicles that do not have jacking points, the hook can fit onto your steel wheel spokes, bumper or even onto engine mounts for engine removal.