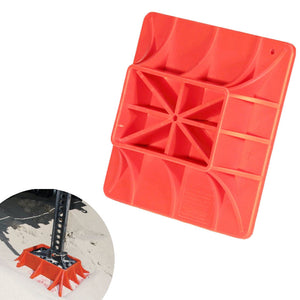 Hi Lift Jack Base Plate
Regular price £24.99 Sale
The Noryb base plate is a useful addition to any Hi-Lift or Farm Jack, increasing the surface area  alleviating your jack sinking into the ground when lifting.
Simply fit the foot of your jack into the moulded recess for a secure non-slip jacking base.
Made from PPS ABS that not only offers durability and toughness but also offers a smart sleek accessory that will last a life time.
Can be used with any Hi-Lift or Farm Jack with foot measurements of 180x115mm or less.
Base Plate dimensions are 300x300mm with a lifting capacity of 4 Tonne.
Does your jack feel unsteady or disappear into the ground below when lifting? If so Noryb offers the perfect a solution, with the aid of the base plate for the Hi-Lift or Farm Jack the surface area of the jack foot is increased by over 400% with a 300x300mm foot print. 
Made from a durable PPS ABS plastic that won't rot or rust and is very easy to clean, ideal for keeping in your recovery kit for the next time your vehicle gets stuck.