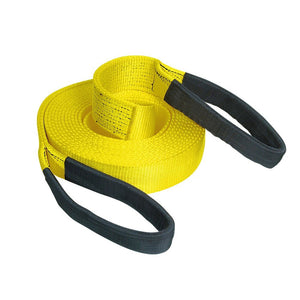 Tow Snatch Strap 9M
Regular price £25.99 Sale
Noryb snatch straps are an essential piece of kit for when the 'going gets tough!'.
The snatch strap is made from 100% nylon webbing giving an extra 20% stretch meaning its even easier to recover a bogged or immobilised vehicle.
Made for heavy duty use with a width of 100mm which results in a minimum breaking strain of 12000kg (26500lbs / 13.2 tonne).
The robust eyes are reinforced to keep the business end of the straps protected.
 How it works - Similar to a rubber band, a snatch strap being stretched between two vehicles generates a kinetic energy pulling force, when the strap stretches to its maximum 20% the strap returns to its original length pulling the immobilised vehicle. The combination of the recovery vehicle pull and the pulling force from the strap creates a 'snatching' effect that can have a stranded vehicle free from being bogged or unable to move under its own power.