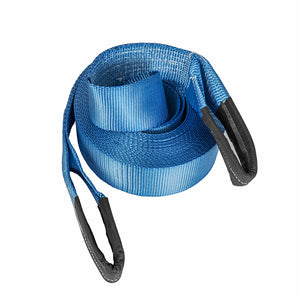 Tow Rope 7T Heavy Duty - 2m, 3m, 5m, 10m, 15m & 20m lengths
Regular price £12.99 Sale
Noryb's recovery straps are some of the strongest on the market and are a must for any offroader whether using it for extreme towing, as a tree strop or even anchoring.
The straps are made from 100% polyester webbing giving greatest effect when performing a dynamic pull, the extremely robust eyes are reinforced to keep the business end of the straps protected.
All Noryb straps are 80mm wide and come in a range of different lengths (2M, 3M, 5M, 10M, 15M and 20M) giving a impressive minimum breakstrain of 7000kg (15500lbs / 7.7 tonne).
Due to the low profile of these tow straps they are quick to fold way after use, easy to store and quick to dry.
The Noryb recovery straps are woven using 100% polyester webbing giving them a minimum breakstrain of 7000kg, they are also available in a range of lengths so we can provide the perfect strap for the occasion. Our recovery straps are used by many offroaders across both the UK and internationally.