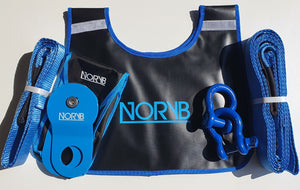 Recovery Kit 6 pieces includes winch accessories
Regular price £49.99 Sale
The  6 piece Noryb recovery kit has all the essential recovery equipment.

Included in the kit -

1 x 2m Tow strap suitable for use either as a tow strap or tree trunk protector

1 x 5m Tow strap both straps are made from 100% polyester and are 80mm wide with a breaking strain of 7000kg

2 x 3/4 drop forged bow shackles with a rust resistant galvanised powdered coated finish ratings and sizes on the bow including CE markings

1 x Winch Dampner which 

will reduce the risk of damage or injury if a cable or rope fails by decreasing the recoil. Dimensions are 500x440mm with a unladen weight of 900g. The winch dampener is made from a durable vinyl which will standup to the most extreme conditions with an reflective strip for increased visibility. Easy and quick to use, simply drop the dampener over your cable or rope and secure using the velcro pads. The dampener has an internal pocket for other accessories or to increase weight to help absorb energy if the cable or rope fails.

1 x 8T Snatch Block designed to double the pulling power of your winch reducing amp draw and heat buildup, protecting your winch motor and gearbox. The pivot system allows quick and simple attachment to your cable or rope. Made from zinc plated CNC precision cut carbon steel to ensure smooth operation.